It is of popular opinion that prevention is much better than a cure and as many yoga instructors would agree; embracing yoga into your daily life from as young an age as possible will help ensure these preventative benefits.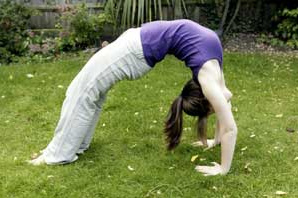 It is my soul belief that what can be learnt in the studio becomes transferable into our own practice, our daily routines and eventually our lifestyle choices and temperament. This is the reason why, after hearing about a London based yoga teacher getting her class on a Peckham school syllabus, I had to speak to the pioneer.
South African born and with a love of travel and yoga, Bryony found herself settling in London to teach around nineteen years ago. She began working at Montessori schools, which are known for their alternative modes of teaching.
This environment gave Bryony a chance to incorporate her knowledge of yoga into the classroom, originally as a way to help the children to relax. Simple breathing exercises eventually became full classes and pretty soon she began to teach children's yoga at nurseries and daily at after-school clubs. "In the beginning there was a lot of phoning around the schools", she told me, but before she knew it teachers were calling her.
Quickly realising there was a niche in the market, Bryony sought to create her own company and went to America to study under Marsha Wenig; founder of YogaKids International, Inc. Upon returning to the UK she created Yoga Beez, offering a variety of workshops and classes at schools, libraries and studios. Bryony, along with a select few yoga teachers, also created a teacher training programme. This consists of a three module syllabus to be taken prior to the Foundation Course. As well as growing popularity in the UK, Yoga Beez now exists in South Africa, Greece and Belgium.
As mentioned, the children's yoga classes and teacher training aren't the limit of Bryony's empire; Yoga Beez now teach weekly half hour sessions at a Peckham school as part of the syllabus for years three to six, with the aim for this to be the first of many.
With the help of a forward thinking head-teacher, Bryony began by tutoring teachers on breathing exercises, basic postures and alternate methods of communicating with students. An example of this would be the use of the Hoberman Sphere in the Peckham classroom. Popularly used when working with Autistic children in the US; the Hoberman Sphere is a simplistic plastic sphere that expands and can be used to teach cause and effect, develop motor skills and encourage imaginative play. The teachers have been using them as a way to communicate and assimilate the motion of breathing to calm the class when rowdy.
When asked about the reaction of the parents to introducing yoga into the classroom, Bryony commented that overall the feedback was very supportive and positive however possible conflicts arose with a Christian parent. However Yoga Beez has made a point to state that their lessons are completely secular. There is no chanting, or mention of chakras. Not to be untrue to her own practise, Bryony believes this is the best way for all the children to benefit from what they are learning. Her primary focus is "educating, exercising and empowering the WHOLE child through yoga, meditation and mindfulness" as well as encouraging compassion for their fellow students.
Looking to the future, Bryony hopes to continue working with schools after a recent success in the lead up to the Peckham schools SAT's. Every day for the week before their exams a morning yoga class was delivered and on the day of the exam the children were given breakfast at school as well as a class. It is often reported that children as young as Primary school age are under increased pressure to achieve well in exams. As well as asana's and breathing, YogaBeez focus on the wellbeing of the children and nurturing their natural ability by adapting the techniques of Howard Gardner and his Theory of Multiple Intelligences, (which states there are multiple ways to define a person's intellect) as well as using musical instruments and maths.
After a conversation with Bryony she seems a very determined and passionate person and extremely encouraging while telling me to always "keep with your passion''. Seeing the fruits of her work must feel extremely rewarding and I hope more Head Teachers start to acknowledge the need for wellbeing lessons in school through, yoga if possible.