I am a Yoga Therapist based in Edinburgh, and am heartened by the rapid growth in the Yoga Therapy market of late. The public are now coming to realise that Yoga is more than just physical exercise or postures which can help with muscular skeletal problems and aid with relaxation.

My interest in Yoga Therapy is inspired by the teachings of T Krishnamacharya and I have been working with teachers at the Krishnamacharya Yoga Mandiram (KYM), in Chennai since 2006. I have been privileged enough to see how powerful Yoga can be when used skilfully making use of asana, sound, breath and diet. The philosophy of the Yoga Sutra's of Patanjali is very much the approach of the teachers at KYM. A student is first given a consultation and then assigned a teacher with consideration given to which teacher would best suit the students' needs both physically and emotionally. KYM believes that the student teacher relationship is at the heart of any knowledge transfer and transformation which will be undertaken by the student.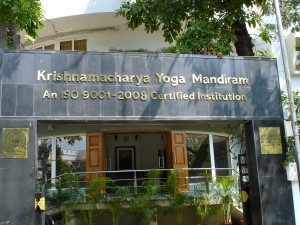 At KYM emphasis is given to the balance between the sympathetic and parasympathetic parts of the nervous system when individual practices are designed. The student is asked to complete a health questionnaire, and give thought to what time of the day they wish to practice. It is usual to place emphasis on exhalation and closing postures if a student wishes to practice in the evening to enable the body and the mind to let go of the stresses of the day and get ready for asleep. The opposite is true for a practice at the start of the day where we use the breath, sound and movement with emphasis on inhalation and opening the body. The individual practice tends to be designed for the student to practice for around 20 minutes daily, however if appropriate the student may wish to practice for longer.
Yoga and Diabetes
A diabetic requires a practice which allows the digestive system to work at the optimum and therefore requires twisting and forward bending postures including knees to chest. Emphasis would also be placed on breath with movement. Long controlled exhales use the diaphragm to massage the internal organs of digestion and help with calming the mind. As the quality of the glucose to the brain for a diabetic can be variable, it is also useful to have a meditative practice to improve focus and memory. At KYM sound in the form of chanting is often used as a meditative practice to help with focus and memory.
Yoga and Depression
Treating depression involves postures with emphasis on the inhale such as warrior and cobra. Use of sound in the form of chant can be extremely useful for changing mood. Also twists and knees to chest postures help improve digestion which often becomes sluggish for a student suffering from a depression.