I'm Louise and as a mother of 3 children, I strongly believe women and birthing parents have the right to choose to benefit from the vitamins, minerals and nutrients their placenta has to offer.
Some people think consuming your placenta is a recent fad when in fact it's an ancient ritual and even appears in the bible! It's just more palatable to consume in the 21st century! History of placenta consumption in relation to post-partum healing can be found in Europe and the Far East.
Li Shi-Zhen one of China's first medical experts, included placenta zi he chi as a medicine in his first Traditional Chinese Medicine Materia Medica published in 1578. He considered the placenta to be a powerful and sacred medicine, a 'full of life force' organ that should be consumed to support a healing mother after birth.
This is the method used to prepare steamed capsules.
Placenta was also used in the 18-19th century in Europe. Nurses would place a small piece of placenta on your gums between your cheek and teeth to reduce bleeding, speed up recovery and help your milk come in faster! There is also evidence that eating a small piece can stop haemorrhaging, when all medical intervention has failed. This is documented in Placenta the Forgotten Chakra by Robin Lim, such an interesting read! This is why it's a great idea to drink a placenta smoothie!
Placenta practices carried out hundreds of years ago were lost with the introduction of modern medicine until an American midwife called Raven Lang re-introduced placenta remedies in the 1980's. As you go into labour your body is on a high with hormones rushing around your system, oxytocin and endorphins are just a few hormones in your placenta, there are 17 in total! When you've given birth to baby and placenta the hormones you were carrying for the past 9 months leave your body as they are contained in the placenta.
Benefits of consuming your placenta:
Replenishes iron levels. You lose between 1/8 -1/10 of your blood during a 'normal' labour. Each capsule is rich in iron helping your iron levels recover quicker. Lack of iron can impact your milk supply and energy levels. Clients rave about the abundance of energy they have at one of the most tiring times in their lives.
Promotes lactation and aids breast feeding. A study carried out found that 86% (181 women took part in the study carried out by Soykova-Pachnerova) of the women studied positively benefitted from taking capsules in relation to an increase in milk supply. Clients report their milk coming in quicker as well as having full breasts within ½ – 1 hour of taking a capsule once milk is established.
Combats stress and unlocks energy stores. The high levels of cortisone in your placenta help alleviate your stress levels.
Stimulates the production of endorphins which help increase wellbeing. A very sad statistic states that 1 in 10 women will develop Post Natal Depression after birth. In a study carried out from a client feedback survey with 1,100 women, only 2 reported being diagnosed with PND which is truly amazing. Clients who suffered from PND previously and didn't encapsulate their placenta often do the next time and the say the difference they feel is life changing.
Supports cellular healing of skin and body. Vitamin E and cytokines are great for maintaining healthy skin cells. Many clients are complimented on their radiant glow and benefit from great hair and nails rather than how tired they look!
Assists the uterus to return its pre-pregnancy state. The placenta helps contract your uterus, so you can return to your pre pregnancy shape and weight quicker. This is due to the high levels of the oxytocin hormone in your placenta. One client commented how quickly her tummy was reducing just 2 weeks after having her 2nd caesarean.
Reduce post-natal bleeding. You can bleed heavily for up to 6 weeks after birth. On average, clients report heavy bleeding for only 2-3 weeks.
Balance hormones. Your placenta contains 17 different hormones, vitamins, minerals and nutrients. One client's husband noticed how grumpy his wife was if she'd forgotten to take a capsule as they balanced her hormones which regulated her mood.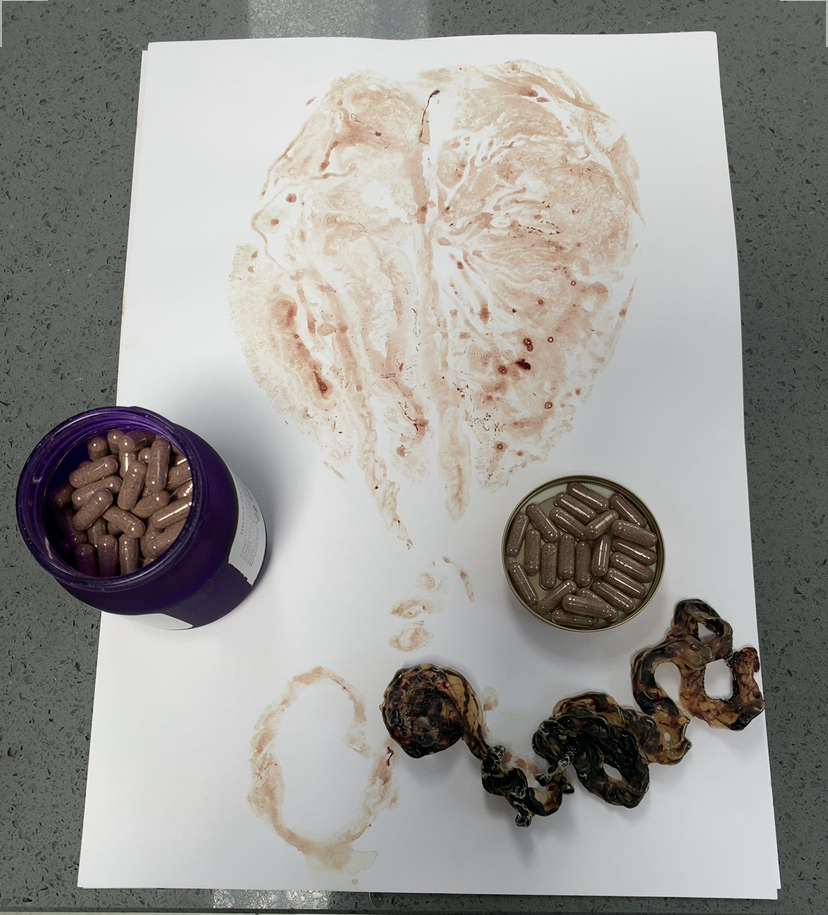 How to arrange your placenta remedy
The process is super simple. Get in touch and I will email you a booking form.
3 weeks before your due date I will send out your chiller pack, to keep your placenta safe for encapsulation along with some paperwork; how to care for your placenta. Your midwife will confirm your placenta is safe for consumption.
I pride myself on the service I offer. I am on call for you 24/7 and will collect your placenta as soon as you are ready for me to do so, either from the hospital or your home. I aim to despatch your capsules within 24/48 hours so you can start reaping the benefits.
Remedies available to choose from:
Simple, steamed or 50/50 capsules (vegan friendly),
Smoothie, smoothie packs,
Tincture,
Mother essence,
Homeopathic remedies,
Oil,
Cord & Placenta art,
All capsules come with a free cord keepsake.
---
Further Reading:
Placenta – Worth Trying? Human Maternal Placentophagy: Possible Benefit and Potential Risks
Main photo by Zach Lucero on Unsplash