Probiotics, meaning 'for life', are the friendly bacteria that live in our body. They are on our skin, in our mouths, they colonise our gut and live in harmony with our bodies. Highly beneficial, the lack of them can be at the root of many illnesses. Sadly, our friendly bacteria are susceptible to depletion due to our lifestyles causing many health issues such as depression, anxiety, digestion issues, and chronic fatigue.
As a relatively new field of science, research into probiotics is unveiling their importance to our health. But luckily, improvements to our gut health are easily made and I am here to show you, each month, some easy life hacks to lift your spirits and improve your gut health.
A little-known fact is the human body is made up of ten times more probiotics than cells, called your microbiome – a balance between good and bad bacteria. A healthy microbiome is an essential part of staying on a healthy journey.
Conditions such as indigestion, irritable bowel syndrome (IBS), and diabetes have been linked to a lack of good bacteria. So many illnesses may be preventable simply by having a healthy microbiome. Diet is one of the ways we disrupt the balance between the good and bad bacteria in our gut. When we eat too many starchy carbohydrates like white bread, white pasta and sugar, bad bacteria and yeasts like candida overgrow and flourish because sugar and starch are their food.
Antibiotics can also cause gut damage and while they can be an important way of killing off the bad bacteria that cause illness, they also kill off the friendly bacteria and this damages our immune system at the time we need it most, leaving us even more vulnerable to illness.
So, what can you do to promote wellness? If you are prescribed a course of antibiotics, add in a probiotic supplement a few hours after taking your antibiotic dose to support your gut while you recover. Once you have completed your course of antibiotics, take a daily probiotic supplement for a short time to give your gut a health boost. (You can ask your pharmacist or doctor for advice.)
Good Gut Habits
Probiotic rich food daily will help boost your microbiome. Reducing the amount of white bread, white pasta and white sugar is a good start. Avoiding antibiotics unless absolutely necessary is another. Why not try making your own probiotics? An easy way to start fermenting is with Sauerkraut.
White cabbage is a source of natural bacteria called Lactobacillus. By fermenting it we create a process that uses the naturally occurring yeasts or bacteria in plants to preserve them. Traditionally, fermentation was used to improve nutrients in diet and make food last longer.
Sauerkraut is rich in probiotics, minerals, and Vitamin K2 (essential for blood clotting). It is a delicious, crunchy accompaniment to many dishes, can be sprinkled on salads or the brine can be added by the tablespoon to warm soup for a probiotic boost and extra flavour. Sauerkraut can be made for a fraction of the price of a probiotic supplement and the fibre in the cabbage will improve your digestion at the same time.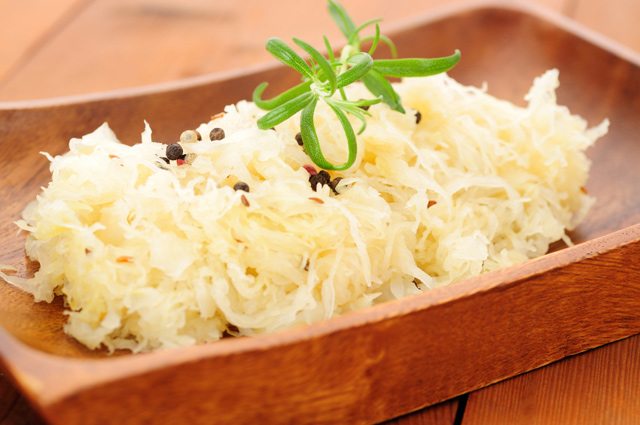 Sauerkraut
Equipment
1 or more Glass Jars

1 Square cloth to cover the lids of the jars

Rubber bands or string

1 Mixing Bowl

Sharp Knife and chopping board
Ingredients
1

Medium

White Cabbage (about 1Kg)

2

tbsp

Sea Salt

Filtered water to cover
Instructions
First make sure everything is cleaned thoroughly with soapy water and rinsed in filtered water. Leave to air dry.

Finely slice/shred the cabbage, leaving out the stalk. Place the cabbage into the bowl.

Massage the salt into the cabbage for 8-10 minutes.The salt will bring liquid out of the cabbage.

Leave for 30 minutes until a pool of brine forms in the bowl.

Transfer the cabbage to the jar, you need to pack it in tightly and you can use a ladle or spoon to push the cabbage in.

Pour in the brine, adding filtered water until the cabbage is covered. Don't overfill.

Place the cloth or muslin over the top of the jar lid and secure with a rubber band or string.
Notes
Each day check that the cabbage is still under the liquid, if it has risen, push it back down again. You will see after a day or so that bubbles of gas appear, this will slow down after a week or two. Once in the fridge your kraut will last for a long time as salt is a natural preservative. Warning, this tastes so good, you may need to make a bigger batch.