Rewilding is the concept of reintroducing a species into the environment it was once part of, typically to restore and maintain the balance in natures equilibrium. Historically humans have had an affinity to develop social constructs that grow increasingly detached from nature.
​Presently our community has never been so disconnected from the natural world. We have forgotten our purpose for being here, the reason all life exists on earth. It's simple, so simple it can easily be overlooked. Seldom do we come across a worldly problem that cannot be attributed to human's disconnection from nature. Our reliance on industry to support our means, our health, our entertainment, and our hunger for excess have taken us further away from the essence of life and have contributed exponentially to local and global problems.
Rewilding Us is the concept of reintroducing to our community's ways of life through human activity that recalibrates natural equilibriums, restoring the balance of nature by reconnecting humans to our ancestral heritage. Humans are foragers, hunter gatherers, it is engrained in us to gather and collect wild foods for our nourishment and health. This skill has been lost and forgotten for many but can be relearnt over time with the expertise of trusted guides.
Through foraging we can slow down, resurrect our instinctive connection to the natural world harmonising the balance between human activity and nature, improve our self-reliance, independence, and experience the wondrous flavours found in nature's larder.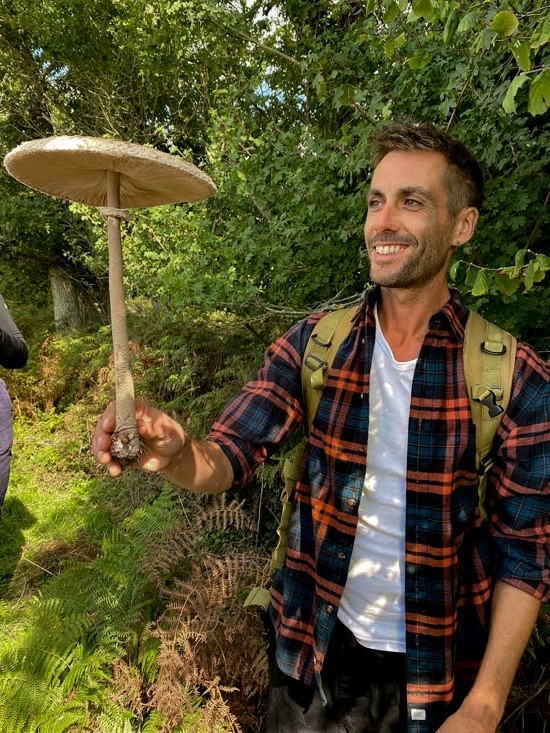 The Benefits of Foraging
Foraging is as much about nature connection as it is enjoying the wild foods. Foraging brings serenity. There is something about wandering peacefully in nature looking for our own wild foods that reattunes us to our primal instincts. Taking time out from the fast pace and high demands of modern society to immerse in the tranquillity of nature is something everyone should be making time for. We are connected to nature not separated from it, albeit our modern lives are moving us further away from this connection, it is up to us to restore it.
We can improve the quality of the foods we eat by foraging. For some people it's about the intense flavours produced by nature, others it may be about the food being organic, locally and sustainably sourced or the density of nutrition and higher medicinal values of wild food. Whatever your personal reasons, there is certainly a growing appetite for wild foods, so much so that many top chefs and restaurants pay well over the odds to be able to serve wild foods on their menus.
Many of the flavours of wild foods are exquisite and the quality of the food is something that is fit for gourmet restaurants. With the ever-changing seasons comes variety from mushrooms, nuts and seeds in the Autumn, to shellfish, flowers and greens in the spring, there is always something flavoursome, fresh and new to put on the plate and with a little bit of creative flare your plate can be decorated to look as beautiful as a bouquet.
All edible wild foods hold medicinal properties, some of the foods are primarily used for just that, as nutrition, which is medicinal in itself. Our culture's diet is generally lacking in quality organic foods that are packed with nutrition, where better to source organic nutritional foods than in nature.
Other foods are used predominantly for energetic purposes, an example of this is tea. We usually use tea, coffee etc to enhance our energy levels, most of which are not that great for us. You can easily replace these products with wild foods e.g. cleavers which is caffeinated and increases energy levels, or perhaps relaxation is what you seek, this can be found in plants such as wild chamomile.
By using wild foods to improve your health you will be taking greater independence in managing your own health and wellbeing.
We provide wild food experiences in Sussex through foraging courses at www.rewildingus.co.uk and hold special events throughout the year. Based in Worthing, West Sussex we are ideally located to take people on a trip through each of the seasons showing you exactly what is available for our use. Our courses cover seasonal foraging, coastal foraging and mushroom foraging. We are fortunate to have the abundant coast lines and forests with history linked to William the conqueror that still produce the wild mushrooms that would have been eaten over a thousand years ago.