"Everyone wants to hold the baby, but who holds the mum?"
Transitioning into motherhood is generally a joyful life event; however, for some women, it is fraught with emotional turmoil. Lack of support has been linked to slower healing times, bonding issues, and postpartum depression. All of which can endanger both the mum and the baby. Postpartum care is critical for a variety of reasons. Care and support can go a long way toward protecting your baby and you in your new role as the new mother. Caring for your health during the vulnerable period following childbirth, care and support also protects your fragile emotions and the mental fog new mothers often experience. Mental wellness is critical for both the birthing parent and the baby's health and well-being. It is much more difficult to care for yourself and another tiny, growing human if you are experiencing depressed feelings which could be an indication of postnatal (postpartum) depression. PPD is a nonpsychotic depressive episode that occurs during or after childbirth. It is distinguished by bouts of irritability, guilt, exhaustion, anxiety, sleep disturbances, and somatic symptoms.
According to the NHS website, postnatal depression can affect women in different ways. It can start at any point in the first year after giving birth and may develop suddenly or gradually.
Mothers of multiples are at a higher risk of experiencing PND – approximately 1 in 5 mothers of twins and triplets are diagnosed by their health professional as suffering from postnatal depression.
If you think you are experiencing any of these issues you should reach out and speak to a GP, midwife or health visitor if you think you might have postnatal depression or depression during pregnancy (antenatal depression).
Post-natal Self-care
Having a baby can be both joyous and tiring at the same time. Not only do new mums have to care for a newborn, but they also have to deal with an exhausted body and a strained mind. Additional responsibility and the recovering body in the postnatal phase need balance. Self-care is essential for mew mums' mental and physical recovery. There are various ways to heal and recuperate from childbirth.
Eat Well – Balanced meals help maintain your energy levels and improve your mood. Consume a lot of protein, calcium, iron, and omega-3 fatty acids, and limit your sugar intake. This is essential if you're nursing because your body requires more energy.
Sleep Well – Getting enough sleep can be far-fetched after having a baby. When your infant falls asleep, resist the urge to plunge into doing chores. Instead, go for a nap or simply relax.
Get some me time – Taking time out for yourself is important for your mental health. Do what you enjoy; take a soothing bath, get a relaxing massage, read a book, get some fresh air, listen to relaxation podcasts and stay connected to your family and friends.
Let others help – Let your family and friends care for you and allow them to help out with chores while you heal. Reach out and ask for help when you need it. Rest as much as you can.
Yoga and Meditation– Exercising regularly improves your mood, keeps you healthy, relaxes muscles, promotes better sleep and can decrease depression, anxiety and stress. Post-natal yoga can increase pelvic strength and long-term pelvic health. Breathing exercises and techniques can significantly reduce effects of stress on the body and lower your heart rate.
Join classes to meet other mums – Look out for classes in your area with a qualified instructor that encourage mum and baby bonding. Try and find a community support network where you can attend and have fun and interactive time with your baby.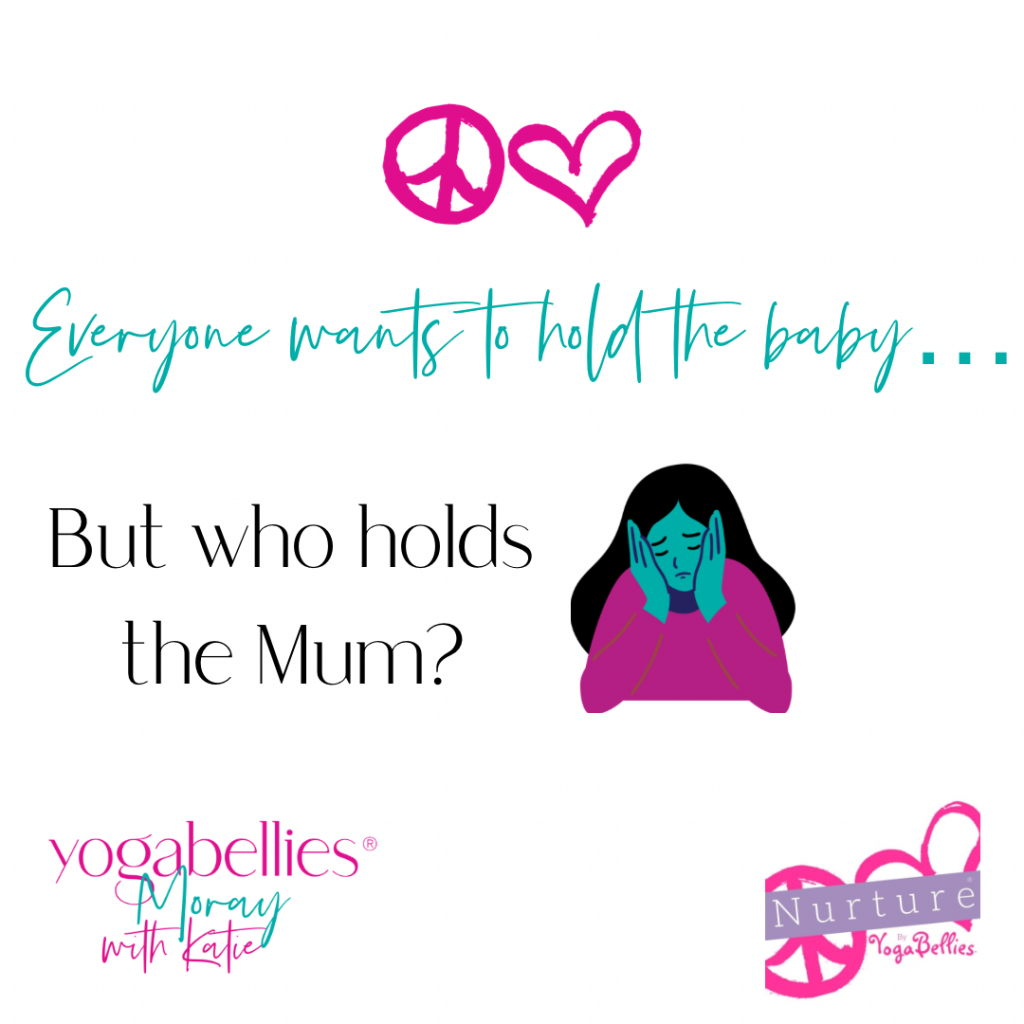 Nurture® by YogaBellies
Nurture® by YogaBellies was created to support mothers immediately postnatally, which is traditionally a time when we were supported by 'the village' – a community of women around us, such as grandmothers, aunts, friends and neighbours. In today's society, women tend to be left home alone with their baby while their partner goes out to work. Without this community and support, we are suffering: More and more women have postnatal depression and suffer feelings of guilt, self-loathing and disappointment that they cannot fulfil their role like other mothers. The myth that women are supposed to raise a baby single-handed is one we wish to dispel. That's what Nurture classes are all about.
Yogabellies® for Mum and Baby
Our unique YogaBellies® for Mum & Baby sessions incorporate traditional yoga postures adapted for postpartum mum and some for baby too. While most post-natal yoga classes either focus solely on mum (with baby stuck in their buggy) or offer baby yoga alone (with no physical benefits for mum) Yogabellies for Mum & Baby combine BOTH post-natal and baby yoga, to ensure both mum and baby leave the class feeling stretched, revived and relaxed. We use unique YogaBellies® baby touch therapies as well as beautiful songs, games and positive life building experiences for your baby teamed with core building and relaxation for mum. Baby yoga has also been scientifically proven to help with baby's brain development, growth, self-soothing and common ailments such as colic, reflux and disrupted sleep. So if you have a baby, this yoga class is for you.
---
Hi, I'm Katie!
My background has mainly been in the Entertainment industry and I have over a decade of professional experience. Holding a BA(Hons) in Dance and a Diploma in Live Events & Promotions, I have worked around the world as a performer as well as undertaking various production and management roles – most significantly Clarke Quay (Singapore's Entertainment Capital).
However, the proudest moment of my life was the birth of my identical twin boys Alfie & Charlie.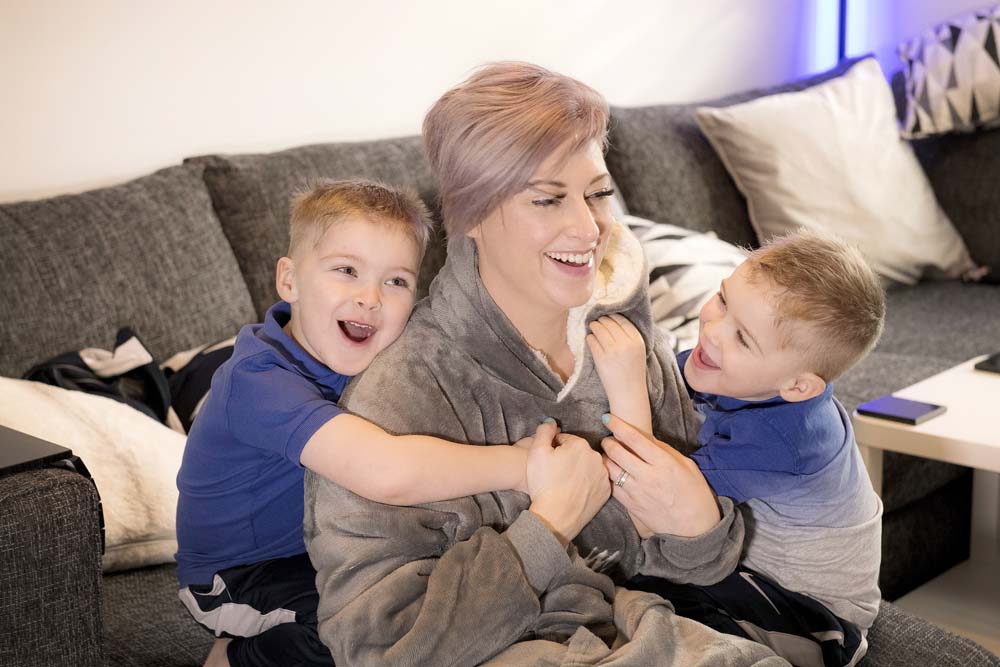 Carrying twins was challenging, both physically and mentally. Following my C-Section I had to undergo a further 2 abdominal surgeries. It was during this time I felt really isolated in my recovery as I found there was a real lack of pre and post-natal focused exercise available – ultimately it was what led me to become a yoga teacher. I also made some life choices during this time to further aid my recovery – switching to a plant based diet and eliminating alcohol – I have now been alcohol free for over 3 years and feel all the better for it!

Before I took the plunge and decided to study yoga, I was working full time as a Dance Teacher & Team Leader in the Central Belt of Scotland. I really loved my work but I was keen to expand my repertoire – I love learning new things and it made sense to dedicate time to something I was already passionate about – women's health and wellbeing.

It felt like a natural progression and also came at the perfect time as I recently relocated to my home town in the North East of Scotland after 17 years away. I am very lucky and truly grateful for the experiences and destinations my career has taken me and look forward to this next chapter of my journey.
I want to create an environment for women that I missed out on during and after my pregnancy. I hope my experience and working knowledge will help my clients to come on this yoga journey with me, whilst feeling safe, comfortable and respected.
I have been offering my classes in the Moray area since March and I'm thrilled at the response I've had from new local mums. My first class was fully booked within 24 hours and I had a full waiting list. My upcoming blocks in May are filling up fast – with some clients travelling from over 40 minutes away!