It was a little nerve wracking to receive an email from the Activities Away lake, my Sunday morning swimming location, asking swimmers to be aware of the ice on the lake surface and to be extra careful.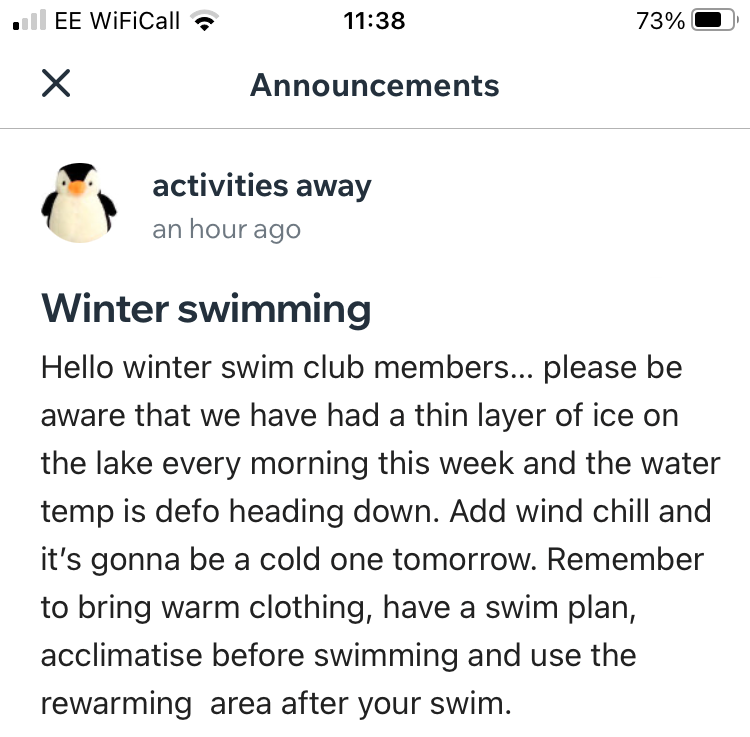 There is no doubt that wild swimming can be hazardous and winter swimming more so. If you read my previous article on winter swimming and were inspired to take up the sport, hopefully this article will give you twelve suggestions to help keep you safe.
Winter Swimming Safety Tips
Take an induction course from an outdoor swimming location, club or coach before going on your own. The lake where I swim is very lucky to work with Lobster Squad who run winter swimming induction courses which are compulsory before swimming. When I was booking an Airbnb recently, there was a winter swimming experience with a coach who would guide you through your first dip. Or there are a range of societies who will also guide you through your first chilly swim
Start swimming where there is a safety team. The activities away lake run organised swimming sessions to ensure swimmers safety in the case of anything going wrong.
It is often best to slowly acclimatise yourself over the seasons. At the beginning of November, the temperature may be 12C before dropping.
You can swim using a wetsuit, ear plugs, boots, gloves, neoprene hat or silicone hat or consider head up swimming wearing a woolly hat. Even those hardy souls who do not wear a wetsuit often wear the other equipment.
Lay your clothes out before you enter the water so that when you emerge you can dress quickly. Try and avoid zips and buttons which cold fingers will find difficult
When you enter the water, take your time and gradually immerse your body so you can get used to the cold. Never jump or dive into cold water. During the first three minutes of entering cold water you will experience 'cold shock response' which typically last for three minutes and you should not begin swimming until your body has become accustomed to the cold.
Focus on your breathing and try to regulate this before you begin swimming.
Whilst swimming, keep checking your fingers touching the tips of them with your thumbs and stop swimming whilst you can still feel them.
Do not stay in the water for too long
When you get out of the water dry yourself but not vigorously as this can increase cold water shock.
Get dressed quickly and don't forget to put a hat back on.
Finally have a warm drink.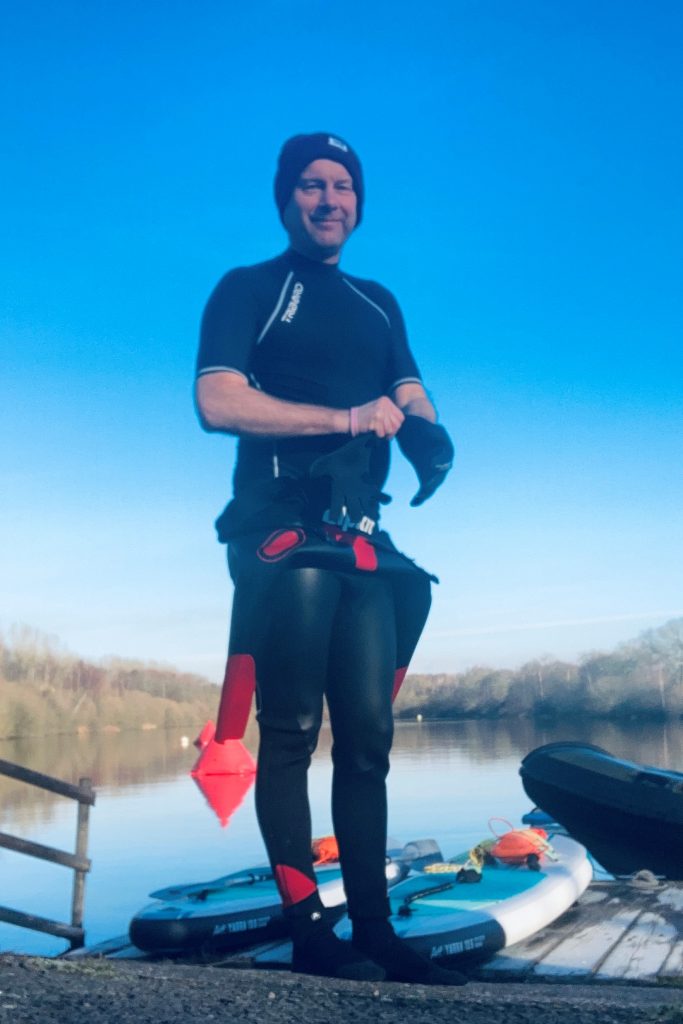 If this blog has struck a chord with you, there are many more comprehensive blogs and publications, such as that published by Lobster Squad, in aid of Shelter, which I would suggest you read. Even with comprehensive research, I would still strongly advise taking an induction course as your first dip.
I hope you enjoy your chilly swimming. It is a challenging pursuit but can provide so much pleasure and so many positives for your well-being, a theme I will look at in next blog. Finally thank you to all those wonderful people who look after us in the water, whether it's your local swimming lake, one of the many wild swimming societies or the individual coaches who are sharing their passion. They are all bringing safe swimming to so many people.
---
Main photo by Miikka Airikkala on Unsplash